MEATLOAF ROLL RECIPE
There's meatloaf and then there's Meatloaf. At the Pit, We Roll it, Grill it, and then Eat it. It's as simple as that.
THE INGREDIENTS YOU'LL NEED: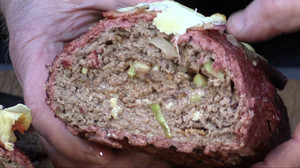 FOR MEATLOAF:
Ground Chuck 80/20 – 5 lbs.
Bacon – 1 lb. regular sliced (pork belly style)
Yellow Onion – ½ cup, diced
Celery – ½ cup, diced
Cheese – 8 ounce block, shaved
Marinara Sauce – to taste (substitute steak sauce or your favorite sauce)
SPG – to taste
DIRECTIONS:
GETTING READY
Bring grill temperature up to 275-300 degrees Fahrenheit, with coals offset for indirect cooking.
Place bacon opposite hot coals to smoke for one hour. Do not overcook the bacon.
Remove bacon after one hour and chop.
Dice onion and celery.
Shave desired amount of cheese.
Wet down a cutting board with water or beer so meat mixture won't stick.
MAKING
Put ground chuck on the cutting board and knead like pizza dough until it is ½ inch thick. Even edges to make it square shape for rolling.
Sprinkle meat with SPG to taste.
Brush on a layer of marinara sauce.
Apply a layer of onions, celery, bacon, and shaved cheese.
Lift front edge of ground chuck and begin to roll front to back. Be sure to work the sides to keep the toppings inside. Form it into a uniform roll.
Place opposite hot coals for indirect cooking.
Apply a layer of marinara on top with three slices of uncooked bacon.
Cover grill and allow to cook for 45 - 50 minutes.
Remove grill cover and apply another layer of shaved cheese to the top of the meatloaf.
Cover grill and cook until cheese is melted and the internal temperature is 155 – 160 degrees Fahrenheit. Be sure to use an instant read thermometer to check the temperature.
FINALIZING
Remove meatloaf from grill and rest for 10 minutes.
Slice meatloaf into serving size pieces.
SERVING
Serve on a plate with baked beans, potato salad, or corn on the cob.
Sit back, relax, and enjoy!!
Recipe from http://bbqpitboys.com/