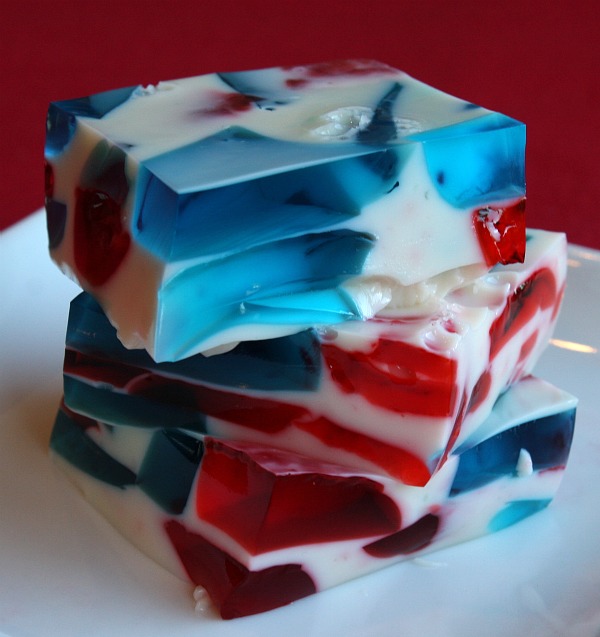 Patriotic JELL-O
Ingredients:
4 small (3 oz.) boxes of JELLO-O in different colors (I used two packages each of strawberry and blueberry)
1 (14 oz.) can sweetened condensed milk
2 envelopes unflavored gelatin
Directions:
1.) Make a double batch of each flavor of JELL-O according to package instructions in two 9×13-inch pans. Refrigerate until completely chilled.
2.) Remove the JELL-O and use a knife to cut each batch into small squares (about 1/2-inch). Carefully remove all squares from the pans, then mix and layer the blocks into a new 9×13-inch pan.
3.) In a separate bowl, sprinkle 2 envelopes unflavored gelatin into 1/2 cup cold water and let it sit for 3 minutes. After the gelatin blooms, add 1 1/2 cup boiling water and stir to dissolve. Stir in the can of condensed milk.
4.) Refrigerate mixture for 20-30 minutes until cooled. Pour cooled milk mixture evenly over JELL-O. Chill overnight.
5.) Use a knife to cut the JELL-O into squares, or use cookie cutters to cut into fun shapes. Add any final decor (we added paper flag picks and flag napkins) for serving.