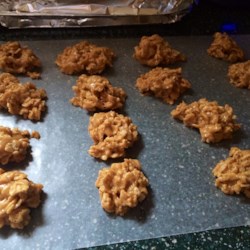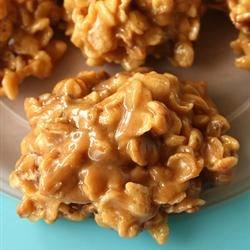 INGREDIENTS:
1 cup white sugar
1 1/3 cups peanut butter
1 cup white corn syrup
4 cups high protein crisp rice and wheat
cereal
1 teaspoon vanilla extract
1 pinch salt
DIRECTIONS:
1.
Blend syrup, sugar, vanilla and salt in a 2 quart microwave-safe dish. Cook on high 4 minutes, or until mixture boils and sugar dissolves.
2.
Stir in peanut butter, then add the cereal.
3.
Drop by teaspoonfuls onto waxed paper. Let cool before storing.